Home sales of residences not on the water in the Greater Grand Traverse Area are up 6 percent over the same week last year. Waterfront home sales remained about the same.
Compared to April, the number of homes on the market skyrocketed in May.
Just last week (reported week of May 21-27), inventory of area homes rose by almost 25 percent over the week prior.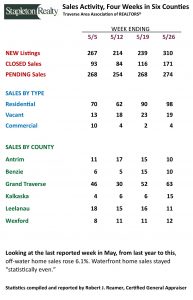 For buyers, more homes on the market means more choice.
For sellers, the increase means more competition. As a seller, your attention to details — such as the home's entryway and yard, neutral paint colors, cleanliness and clutter — will be even more important. Buyers make their first impressions within seconds. Learn more at:
https://www.realtor.com/advice/sell/make-fantastic-first-impression-selling-home/